In CharacterName:
Emma Frost
Age:
24
Gender:
Female
Rank/Title:
Lady
(For family, just enter names and if there alive or dead please)
Parents:
Father: Godric Frost
Mother: Romilda Frost
Step Mother: Walburga Frost
Grandparents:
Paternal Grandfather: Dunstan Frost
Paternal Grandmother: Brianna Frost
Maternal Grandfather: Gisbert Brant
Maternal Grandmother: Hilda Brant
Siblings:
Sister:Candace (31)
Sister" Helena (29)
Brother: Richard (27)
Sister: Bethany (19)
Sister: Avila (14)
Sister: Claudia (12)
Aunts & Uncles:
Uncle Dacre Frost
Aunt Augusta Frost
Uncle Bartholomew Frost
Uncle Algar Brant
Aunt Frida Brant
Uncle Edmund Brant
Nieces & Nephews:
Lucia and Cedric (Candace)
Adela and Adair (Helena)
Charles (Bethany)
Cousins:
TBA
Children:
Son: Craig
Daughter: Linda
Grandkids:
NA
Skin color:
Fair
Hair Color:
Blonde
Hair length:
Long
Eye color:
Green
Size:
5,6
Build:
Slender
Picture: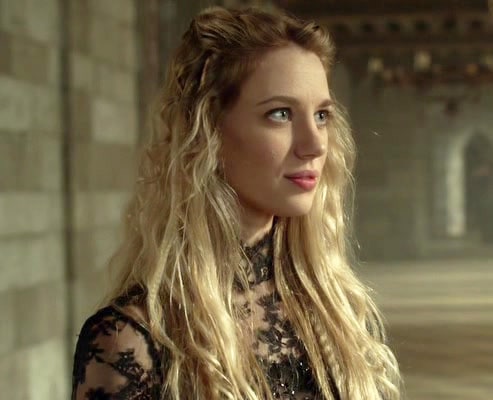 Celebrity Playby
Yael Grobglas
Crushes:
Secret
Mates/Spouse:
Tylan Lanncaster
Status:
Married
Personality:
Emma is Willful, Cold, Ambitious and Cunning.. She will promise one thing and do another behind the scenes so she can get her way. She is not lost on the ways of the court and intrigue however she know some you need to appease certain people to get your way sometimes. Her pride however drives to do this in the least costly way possible to herself. She is also somewhat impatient however and uses her power rashly to get what she wants even though it might cost her more in the long run. Her impatience makes her shortsighted to the consequence of her actions and as a result she can make drastic mistakes. She can be a dangerous woman if she is backed into a corner, she knows how to use steal and she has Power and enough of it to even get away with murder.
Emma has little faith in honorable men, honor has not place at court. The court is filled with liars and back stabbers, its her belief that even the best warrior could loose his life if they put any trust in anyone in Kingslanding.. For in kingslanding they are all vipers and they will pray on weakness. Brave honorable men belong on the Wall with the Nights Watch or on the field in battle not in Royal politics..
Personal BackgroundFamily House Background
House Frost is best known for producing the finest front-line soldiers and animals bred for one purpose – war. In times of peace, when creatures of fighting stock are not in high enough demand, House Frost prides itself on the production of quality animal-derived goods able to withstand transport without spoilage. Initially the family known as Frost defied the crown and refused to swear fealty, so set in their ways to be ever-resistant to change. An ancient ancestor in a time of weakness eventually bent the knee, swearing that the men of his House would go to war the moment a decree was issued from the Crown. And so it has been for centuries that every boy take up a blade within a year of learning to walk, and are fully battle-ready by the time they are considered men. The Frost family controls the area known as Northpeak, a region of land that is mostly tundra in its northernmost reaches. Northpeak is located some distance north of Riverstone, and just southeast of Whitewood.
Weakness:
Impatient
Shortsighted
To Much Pride
Power-Hungry
Strengths:
Cunning
Calm
Ambitious
Loyal to her Blood
Theme song:
Rains of Castamere
Misc Information:
-Believes there is one God, the God of Death. (Pretends to worship the faith of the Seven )