Samantha Carter
~About Family~
Samantha and her family were from the United States for generations her father, her fathers father and so one were all from the States and just about all of them served in the military. Before that the Carters lived in England before an ancetor arrived in America. Her mothers family was a mix of American, Canadian and French and they were no strangers to life of service either, her maternal Grandfather served in the Canadian Navy and held the Rank of Captian before he retired. It wasn't until Ace Carter that a Carter had not joined a Military.
~Important People to Sam~
William Carter (father, deceased) Her Father was often away because of his work but he was ever devoted to his children when he was home. He was strict but rewarded good behavior richly when he could. When her mother died when she was a child and her father came to take care of them full time Sam looked up to her father greatly and wanted to make him proud. Despite having a love for the sciences as a teen she joined the military at her fathers urging. She never resented him for it and still find great pride in her career. Was devastated when her father died of cancer before the virus was a threat, but coped by spending more time in a lab or reporting for a mission.
Ace Carter (Brother, Alive) Growing up she and her older brother were close, of course they had there disagreements from time to time, they had differing interests and she was his little sister after all. But he was the only person who could convince her to look away from her studying and go out side usually with the promise of ice cream. As Adults this relationship is even more solidified, though with her job and with the world in ruins she has a protective streak for her brother and his kids especially. As of the new world they are in from post virus world Ace is one of the few people she trusts and still opens up to.
Cassie Carter + Jackson Carter (Niece/Nephew, Alive) Considering she has no kid of her own, she values her niece and nephew as if they were her own and would die for either of them.
Rick Hartmann (Commanding Officer, Alive)  Is her commander and superior in what Rank they still hold in the Post Virus world, though it annoys her beyond all means that he refuses to acknowledge her rank. She still wants to reach for his respect eventually.
Finlay McKenna (??? Alive) More info pending...
(More TBA)
~Misc Facts~
Birthday: May 23 1982 (Gemini)
Sexual Orientation: Heterosexual (those most say she is married to her career)
Best Memory: Being Promoted to Major
Worst Memory: Watching her father die
Worst Fear: Letting everyone Down
Favorite Holiday: Halloween
Favorite Movie: Star Wars: New Hope
Favorite TV Show: Star Trek: The Next Generation
Favorite Beer: Budweiser
Favorite Liquor: Vodka
~Likes (+) and Dislikes (-)~
+ Puzzles
+ Riddles
+ Kids
+ Jello
+ Coffee
+ Cheese cake
+ Turkey
+ Humming
+ Math
+ Reading By a Fire
+ Proving herself right
+ Playing with Gadgets
+ Experiments
+ Talking about geeky stuff
+ Work
+ Nights under the Full moon
__
- Dishonor/Disrespect
- Eggs
- Green Peppers
- Grapefurit Juice
- Condescending People
- Having Nothing to Do
- People are in Pain
- Being Powerless
- Arguing
- Being Wrong
___
More Notes
- Very Smart, graduated Highschool at 16 and went to Collage soon after
- Likes to hum random songs, yet doesn't really know how to sing
____
~Pictures~
Sam Holding her nephew when he was a baby
Sam on her first Day as Captain
Dressing up as a Starfleet officer for Halloween
Sam: *I like this Jello*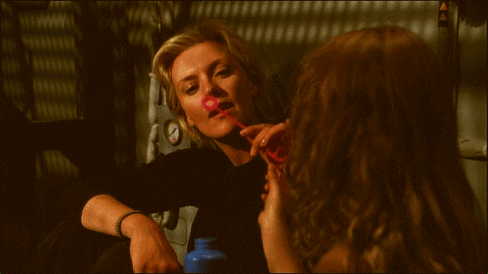 Sam amusing her little niece with bubbles
Sam means business
Sam with her Dad on his Deathbed
"Well this is awkward"..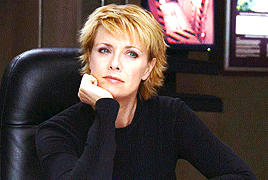 "No I don't think so..."
"What?"
"And stay down... ya jerk"