Out of Character (tell us just just a bit about you outside RP) Name:
Sub
In CharacterName:
Rodney Briggs
Age:
46
Gender:
Male
Career:
Attendant at a commercial paintball field (previously worked in construction for his step-father)
Note:
Nickname: Knob
Parents:
Malcolm and Jessica Briggs
Grandparents:
William and Jezebel Briggs; Douglas and Wendy Powers
Siblings:
James, Marlene, and Noah
Aunts & Uncles:
None
Nieces & Nephews:
Quite a few (all likely deceased)
Cousins:
None
Children:
Ryker
; Mercedes
Grandkids:
None yet
Skin color:
Pale
Hair Color:
Black
Hair length:
Short
Eye color:
Blue
Size:
5' 11"
Build:
Thin
Picture: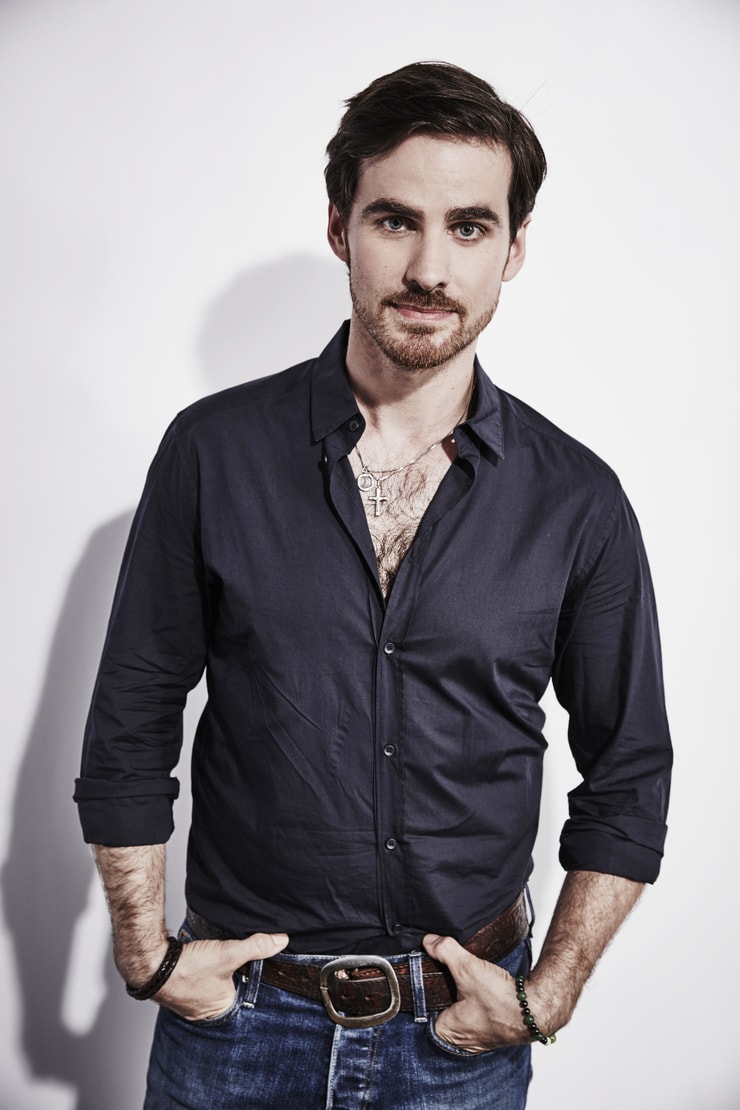 Celebrity Playby
Colin O'Donoghue
Crushes:
Too many to list
Mates/Spouse:
Selena Calderon, but it wasn't exactly a committed relationship
Status:
Single
Personality:
Many words can be used to aptly describe Rodney: trouble-maker, offensive, rebellious, obnoxious, rude, crude, outrageous... even downright crazy... and the list goes on. Those who only chip the surface of this man's behavior only see the defense mechanisms he has in place – a sometimes vulgar, consistently playful, ever witty, and extremely thick wall between the world and his heart. At times even after getting to know Rodney, his demeanor may seem grating... but it's all in good fun. He likes to test the limits of those around him, and keep them on their toes. When it comes to socializing Rodney has a large tolerance and certain apathy for people; he doesn't care what you wear, what you do, what you're into, or what you're like... so long as you can tolerate him, everything is good.
Rodney is typically friendly upon first meeting him, and he is a huge flirt when it comes to interacting with women. It wouldn't be wrong to call him a womanizer... he's even been known to charm a few men if the dynamic between him and them seems interesting enough. He can be genuinely charming and leave all immature teasing or obnoxiousness out of the picture when he really wants to. While Rodney puts up this friendly front, it is best not to assume that one is a friend of his just yet. It takes a while for Rodney to properly warm up to someone.
Breaking through Rodney's defenses can take work, but there are rewards for the diligent. It should be noted that he will still have times when he's a complete arsehole... but he can be relied upon much more soundly, is fiercely protective of those who have his trust, and actually has the potential for loyalty. It will also become apparent that he loves practical jokes, with some being more dangerous than others if the joke were to backfire. He can be compassionate, and is a kid at heart. This childlike nature causes Rodney to have a soft spot for kids, even though the adult side of his personality tends to put an inappropriate spin on his interactions with them in the way of influences that are negative through the lens of societal norms.
Your Story Please?
Rodney is the third of four children born to Jessica Briggs. Her previous two children both had different fathers. Rodney's father is Malcolm Briggs, who left the family shortly after Noah turned three. Rodney was five at the time. He observed his mother's bad taste in men, which caused him to believe that a "love 'em and leave 'em" mentality was normal when it came to romantic relationships. Jessica divorced Malcolm, married a different man, divorced him, and married for a fourth time by the time Rodney became a teenager.
As one of the middle children of the family, Rodney didn't get much attention from his mother and stepfather-of-the-moment. He did every unruly thing in the book to get their eyes to notice him. All Rodney received for his trouble was frequent discipline – which wasn't what he wanted, so it had little if any effect on the young man. As a result he got into everything he could get his hands on as a teenager. Sometimes he did these things for attention, but at other times he did it just for fun. And sometimes, Rodney did it to escape the pressures of his young life.
He went through scores of girlfriends while navigating his way around high school. After befriending Finlay McKenna, Rodney frequently set the other young man up with the same girls to see if Fin fared any better – usually they didn't, especially if Fin followed Rodney's advice, so it was back to the drawing board. Rodney jokingly considered himself to be Fin's matchmaker.
Rodney started dating a young woman named Selena Calderon during his late teens, as they came upon their graduating year. He frequently went to hang out with Finlay and their gang with a variety of nicks and bruises on his person, but Rodney never spoke a cross word about whatever transpired. There was a time where Rodney and Selena would break up, Selena would take an interest in Finlay and they would date... until one or the other decided it was time to break up, and Selena was right back with Rodney again.
For the longest time Rodney never knew that one of his dalliances with an older classmate produced a child – a son whom the mother named Ryker. Rodney was not with the mother of his child at the time of birth, and at that age he wouldn't have wanted to be involved. Rodney eventually learned about it all, but by the time the mother of his son contacted him, he was in a committed relationship with Selena. Ryker's mother was crushed that Rodney had moved on to find another lover, and never contacted him again. Rodney and Selena had a daughter together, named Mercedes, in 1993.
Rodney and Selena had an on-again, off-again relationship during Mercedes' upbringing. They were just starting to rekindle the romance when a virus started sweeping over the United States. People started dying. Mercedes got sick, and so did Rodney. If Selena had gotten sick, she hid it well for the sake of her daughter. When Mercedes got so bad that she started having respiratory problems, Selena took her daughter to the emergency room and left Rodney behind. He was fairly certain she left him behind to die.
His girlfriend and daughter never returned for him. Rodney had no idea how long he was in and out of consciousness – the virus had soundly knocked him out of commission. He could hear bandits outside ransacking the houses around him, and soon enough they broke into his place. Rodney tried to threaten them and gave them a run for their money, but they soon overwhelmed him. In a desperate plea Rodney asked the bandits to take him wherever they called home. They agreed, though only because they needed more people.
Little did Rodney realize that the bandits he encountered were in the middle of something of a turf war with another band of raiders. He slowly recovered, and learned all he could about what was going on in the world these days. Crude maps showed him the basic territory each of the bandit groups claimed. Not long after Rodney recovered and joined the group, they made a coup against a rival raiding party in the area. It wasn't until the very last minute that he learned a startling but unsurprising truth: Selena was running the group, and grooming Mercedes to eventually take her place. Rodney was captured in his attempt to lead his friends into battle against Selena's forces.
Selena and her people interrogated him. She tried to convince him to change sides, but Rodney still resented her leaving him more or less to die. Selena didn't see what Rodney's problem was, and tries to convince him to come back to her with romance instead. Rodney made a move to go for it, but instead attempted to grab her weapon to use it against her. Selena caught on to his game and told him he would cooperate, or he'd meet a very slow and painful death.
Each day, Selena's men tortured and did away with a single man that had been captured from Rodney's group. He was given the option to change sides, or watch the men die. Rodney silently chose the latter. Eventually Selena ran out of comrades to torment Rodney with.
The night before Rodney was going to meet the same fate as his friends, his daughter went to him. Mercedes pleaded and begged for him to change his mind so they could be a family again, and told him what her mother planned to do with him if he refused to cooperate this last time. Instead of joining the group Rodney managed to play enough of a mind game to get his daughter to let him out and give him back his gear. He tried to convince her to come with him and leave the raider lifestyle far behind.
When Mercedes wouldn't go by just his asking, he begged her. Once more she denied him. Rodney gave his daughter a hug and the sincerest of apologies before knocking her unconscious – a scene Selena managed to walk in on. Selena screamed and ordered her men to capture Rodney alive so she could kill him herself for doing such a thing to their daughter. Rodney ran; he fought anyone that got in his way, practically tore a raider from a parked motorcycle, hopped onto the vehicle, and drove off as fast as he could get the bike to go... though not before sustaining further injuries.
Rodney finally got away, but at a price. He had lost a lot of blood. As his sight dimmed, still driving the motorcycle to destinations unknown, the sight of a fenced-in farmhouse came into view. After that the world went dark.
Weakness:
No romantic fidelity
Lack of self-control
Impulsive
Impatient
Women
Liar
Strengths:
Charming (when he wants to be)
Construction knowledge
Some weapons training
Loyal (to an extent)
Lockpicking
Bold
Favorite Color:
Burgundy
Theme song:
Mambo Number Five, Lou Bega -
https://www.youtube.com/watch?v=bu7h_md33So